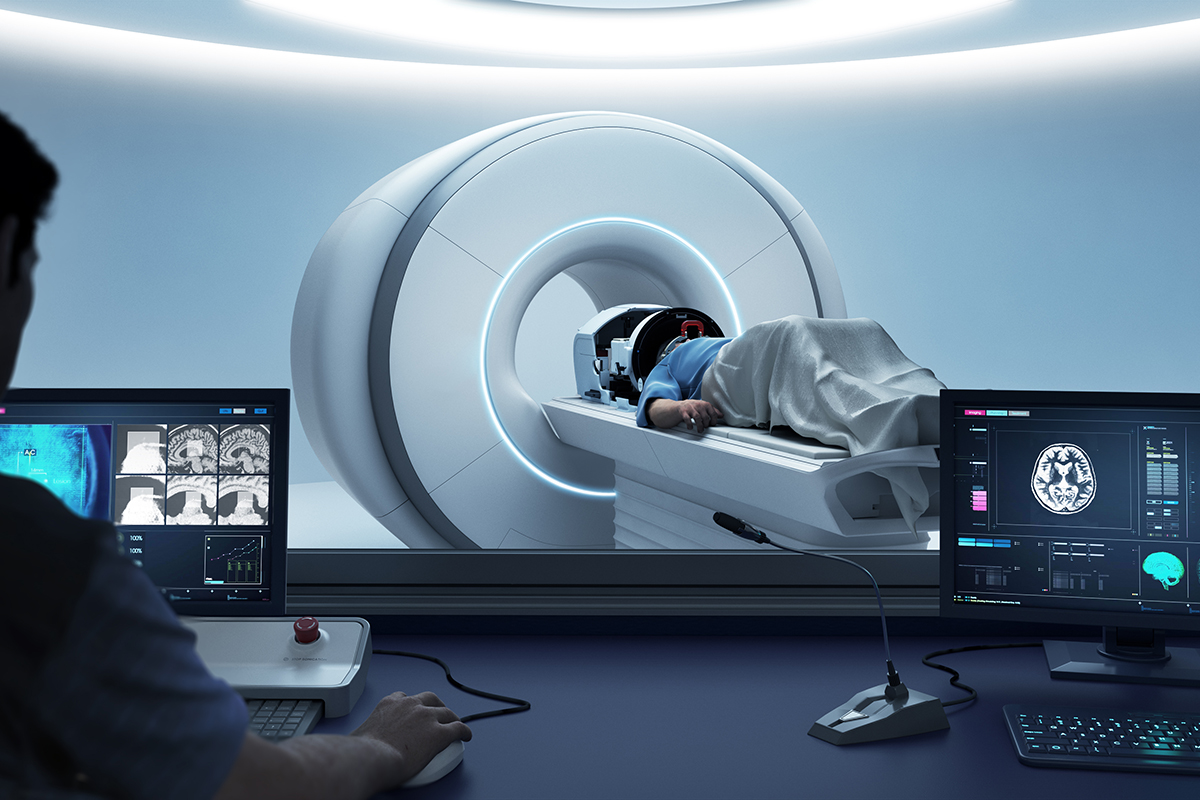 Focused Ultrasound
MRgFUS, or Magnetic Resonance-guided Focused UltraSound, is an incisionless procedure for the treatment of Essential Tremor
MRgFUS, or Magnetic Resonance-guided Focused UltraSound, is a safe, cost effective and incisionless procedure for the treatment of essential tremor. Trials have been shown to deliver similar patient outcomes to Deep Brain Stimulation (DBS), often in an outpatient setting, and NHS England has now determined that this should also be available as an NHS service.
The treatment combines two technologies – high intensity focused ultrasound (FUS), that is guided by Magnetic Resonance (MR) Imaging. High intensity focused ultrasound is used to destroy one or two small areas of tissue in the brain which are responsible for the tremor. The treatment takes approximately 4 hours and many patients can experience an immediate reduction in their tremor, however, their ability to regain skills such as writing, picking up a cup, using cutlery, doing up buttons and zips, using a phone or computer may take longer to recover. Since April this year (2021) MRgFUS is available on the NHS in England for the treatment of people with essential tremor, having received a positive guidance from NICE in June 2018.
An animated video explaining how MRgFUS works featuring Ian Sharp, who is among the first people in Scotland to be treated with MRgFUS at Ninewells Hospital from the University of Dundee.
Professor Wladyslaw Gedroyc, consultant Radiologist at St. Mary's Hospital, Imperial College NHS trust describes MRgFUS, how it works, who it is for, the key benefits and the considerations of treatment
Exclusion criteria:
Generally patients with significant speech impairments, unsteadiness of gait, moderate cognitive impairments or dementia should not be treated with MR-guided Focused Ultrasound, as these could deteriorate after the procedure. In addition if the patient has other serious medical conditions it may be unwise to undergo MR-guided Focused Ultrasound.
The procedure:
The MR-guided Focused Ultrasound procedure is performed with the patient awake and can be somewhat of an ordeal; patients often reporting a feeling of dizziness or pressure around the head which may occur several times during 'sonications' and lasts for 10-15 seconds on each occasion. There can be some intrusive pain and discomfort from the pins that hold the frame to the patients head. The frame is required to prevent the head from moving during the procedure. As it is done in an MRI scanner whilst the patient is awake it may not be possible in patients with claustrophobia (fear of enclosed spaces).
Adverse effects:
The main adverse effects of MRgFUS are caused by cerebral oedema (temporary swelling around the target site in the brain), which may lead to worsening of speech and walking and also numbness, involuntary movements or weakness on the treated side of the body (including face, arm and leg). Although, these symptoms, should they occur, usually resolve within a few months there is the possibility that one or more of these adverse effects might remain permanently.
Will the tremor return afterwards and how long will the beneficial effects of MR-guided focused ultrasound last?
The answers to these questions are not known as it is a relatively new procedure. However, currently we have good information on patients up to 3 years after MR-guided Focused Ultrasound showing that the tremor remains well suppressed in the treated arm in most but not all patients.
Downloads
#ActionOnET
#ActionOnET is the leading UK campaign for Focused Ultrasound (MRgFUS) technology on the NHS for the treatment of essential tremor.